MUST-WATCH TRAILERS
Wonder Woman 1984 is going to be totally awesome: Warner Bros. released the first trailer for the DC sequel Wonder Woman 1984, which finds the titular superhero in the 1980s as she faces off some new foes to the sounds of New Wave music. Watch the awesome, totally radical action below and see the comic book movie in theaters on June 5, 2020.
In the Heights sings an inspiring tune:Warner Bros. also dropped the first trailer for In the Heights, a movie adaptation of Lin-Manuel Miranda's award-winning Broadway musical about a New York City neighborhood. Check out the song-filled first spot below and dance your way to see it in theaters on June 26, 2020.
Promising Young Woman looks very favorable: Carey Mulligan stars in the first trailer for Promising Young Woman, actress Emerald Fennell's feature directorial debut about a women punishing supposed "nice guys." Check out the bold new spot courtesy of Focus Features below and find this revenge thriller in theaters on April 17, 2020.
Free Guy offers a fun twist on video game movies: The Truman Show meets Wreck-it Ralph in the first trailer for the action comedy Free Guy, which stars Ryan Reynolds as a man who learns he lives in a video game. Watch the spot below and find this one in theaters from Disney and Fox on July 3, 2020.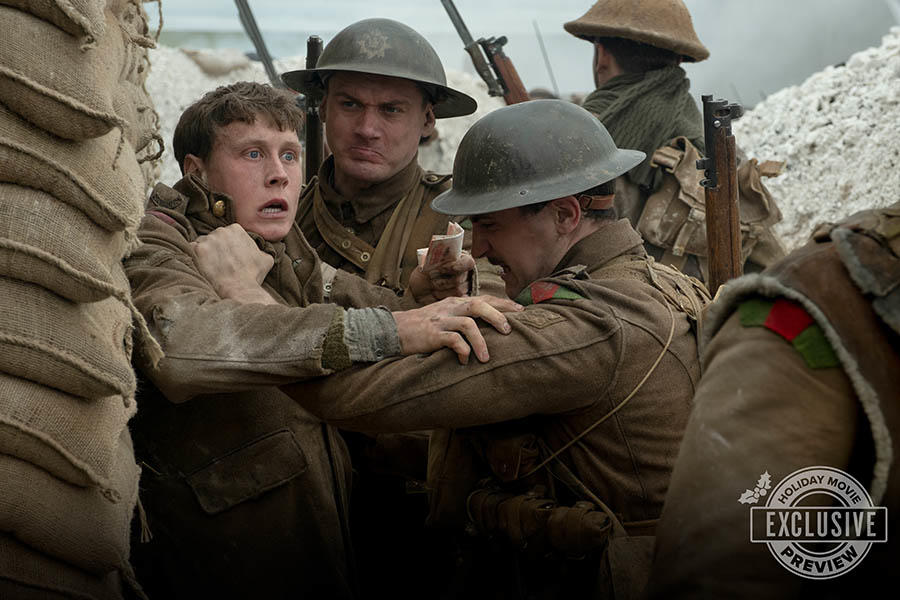 MUST-SEE MOVIE SCENES
1917 pulls us through war with one shot:One of this year's most impressive movies, Sam Mendes' upcoming World War I drama, 1917, follows soldiers on a gripping mission that plays out as one continuous shot. Here's an exclusive isolated clip from the movie, which is out on Christmas, tracking one of the characters through the ruins of a town:
Like a Boss lets one go:The upcoming comedy Like a Boss finds laughs in the business pursuits of best friend characters played by Rose Byrne and Tiffany Haddish. In this exclusive clip, the two women make a decision they soon regret when they fire one of their employees, played by Billy Porter:
CLASSIC MOVIE TRAILERS OF THE WEEK
Safdie Brothers retrospective:Benny and Josh Safdie are finally breaking out into the big time with their acclaimed new movie, Uncut Gems, which is now in theaters. For this week's classic movie trailer showcase, we look back at some of their previous features.
Lenny Cooke: After delivering a fine feature directorial debut with the 2009 comedy/drama Daddy Longlegs, the Safdies ventured into documentaries. Lenny Cooke, about the titular basketball hopeful, opened in the U.S. on December 6, 2013.
Heaven Knows What: The next year, the Safdie brothers were back to fictional stories with their next feature, Heaven Knows What. This serious drama opened theatrically in the U.S., following a lengthy film festival tour, on May 29, 2015.
Good Time: Benny and Josh took a step toward the mainstream with their next effort, the intense crime drama Good Time, which stars Robert Pattinson as a bank robber attempting to get his brother out of trouble. This movie, which has a lot in common tonally with Uncut Gems, opened in theaters on August 11, 2017.
CLASSIC MOVIE SCENES OF THE WEEK
Welcome to Jumanji: With the sequel Jumanji: The Next Level now playing, let's look back at some of our favorite moments from the previous installment of the Jumanji franchise, which was the first to star the current ensemble of players and avatars. Check out some clips from 2017's Jumanji: Welcome to Jumanji below.
Spotlight on strengths: Each of the main four avatars in the video game universe of Jumanji has their own unique strengths and weaknesses. This clip showcases some of their positive attributes to their advantage when confronting bad guys:
Helicopter versus rhinos: It's not a Jumanji movie without a stampede of some kind, and in the previous movie the most action-packed sequence involved a lot of rhinos and a crazy helicopter stunt. Watch:
First kiss: Behind the video game action movie of Jumanji: Welcome to the Jungle is a teen romantic comedy about kids gaining confidence in themselves and finding love. This moment is one of the funniest first kisses in movie history: