MUST-WATCH TRAILERS
Black Widow confronts an Avenger's past: Marvel Studios released a "special look" at Black Widow, the first entry of the MCU's Phase Four, and it qualifies as a new trailer for the upcoming action blockbuster. See newly Oscar-nominated stars Scarlett Johansson and Florence Pugh in the spot below and catch it in theaters on May 1.
Morbius introduces Marvel's bat-man:Another Marvel movie, which may or may not be somehow related to the MCU, also released a trailer this week. Morbius stars Jared Leto as a vampire antihero who is part of the Spider-Man canon in the comic books. Check out a few surprises in the first spot below and see the movie on the big screen on July 31.
The Lovebirds unmasks itself:Paramount released the first look at the upcoming comedy The Lovebirds, which stars Issa Rae and Kumail Nanjiani as a couple who get mixed up in a murder mystery. Watch the trailer for the movie, directed by The Big Sick's Michael Showalter, below and find it in theaters on April 3 following its SXSW premiere.
Peter Rabbit 2 should be a runaway hit:Sony dropped the first full trailer for the sequel Peter Rabbit 2: The Runaway, in which the titular character and the other animals of Mr. McGregor's farm take off to the big city. Check out all the shenanigans they get into this time in the spot below and bring the whole family to see it on April 3.
Oscar shorts have big appeal:Once again, Magnolia Pictures and ShortsTV are bringing this year's Oscar-nominated short films to theaters, with programs divided into the animated, documentary and live-action categories. Here's an exclusive trailer for the award-worthy bunch, which hit the big screen on January 31.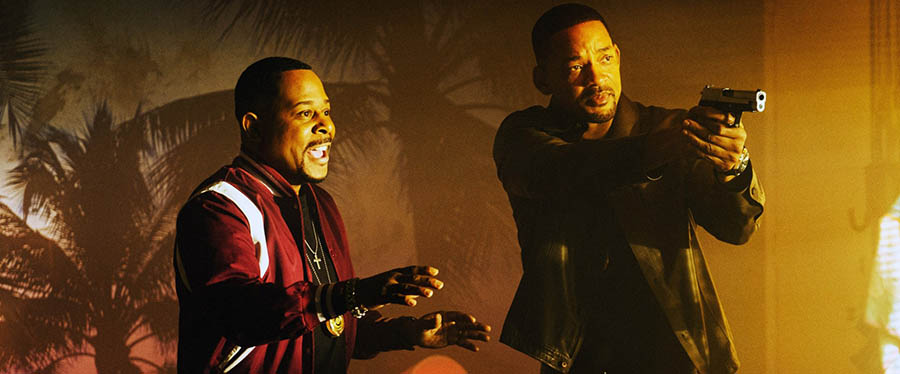 MUST-SEE MOVIE SCENES
Bad Boys for Life, good men never: In this exclusive clip from the action sequel Bad Boys for Life, which is now in theaters, Martin Lawrence's Marcus tries to convince Will Smith's Mike that it's time for them to be "good men." The idea doesn't go over well, let alone catch on, as you can see:
The Rhythm Section drives up interest: If The Rhythm Section isn't already on your radar, it will be after watching our exclusive clip from the upcoming thriller. Here we see Blake Lively leading a chase scene that's tightly shot for an intense experience. You'll be buying tickets for the movie, which opens January 31, immediately. Watch:
CLASSIC MOVIE TRAILERS
The Bad Boys trilogy: In honor of the third installment, Bad Boys for Life, hitting theaters this weekend, let's look back at the previous two movies in the Bad Boys trilogy, which began 25 years ago:
Bad Boys: The original Bad Boys not only gave Michael Bay his feature debut but it launched TV sitcom stars Will Smith and Martin Lawrence into the big leagues as immediate movie icons. Here's the first trailer for the first movie, which opened in the U.S. on April 7, 1995:
Bad Boys II: It took eight years for the flashier follow-up, simply titled Bad Boys II, to reunite Smith and Lawrence as badass Miami cops Mike Lowery and Marcus Burnett again under the helm of Michael Bay. Watch the trailer for the first sequel, which hit U.S. theaters on July 18, 2003:
CLASSIC MOVIE SCENES
Tremors: This weekend marks the 30th anniversary of the release of Tremors, a seemingly ordinary creature feature that wound up becoming a cult classic spawning a long-running franchise. Courtesy of Movieclips, here are some memorable scenes from that first movie from 1990:
The first body: Before we see any of the "graboid" creatures kill anyone from beneath, the first casualty of the invasion is a local named Edgar, who died of thirst trying to keep from being eaten:
Safety of the aqueduct: This foot chase sequence features a great combination of practical effects to directly and indirectly depict a graboid chasing after Kevin Bacon and Fred Ward:
Pole Vaulting: Not since the pommel horse fight scene in Gymkata has an olympic talent so memorably lent itself to action in a movie. To escape a graboid, our heroes pole vault to safety from rock to rock to pickup truck:
Flying graboid: Finally, this climactic sequence recalls the aqueduct bit, as our heroes lead the last graboid to its death by drawing it to the unknown, in this case the face of a cliff:

PULLING BACK THE CURTAIN
The Rhythm Section shares an adrenaline rush: If you like the chase scene from The Rhythm Section showcased above, now you can see how it was made in this exclusive featurette starring actress Blake Lively as she breaks down the filming process: